Automatic Pass Testimonials
"I want to express my heartfelt thanks to Alan for guiding me to success in my driving test. Alan's patience, expert knowledge and dedication to teaching make all the difference in helping me pass first time. His insight and feedback was a real confidence boost and also honed my driving skills. I couldn't have asked for a better driving instructor. Thank you again Alan for your exceptional guidance. All the best, will hopefully see you in the future filling up at the garage."
Ethan Cowles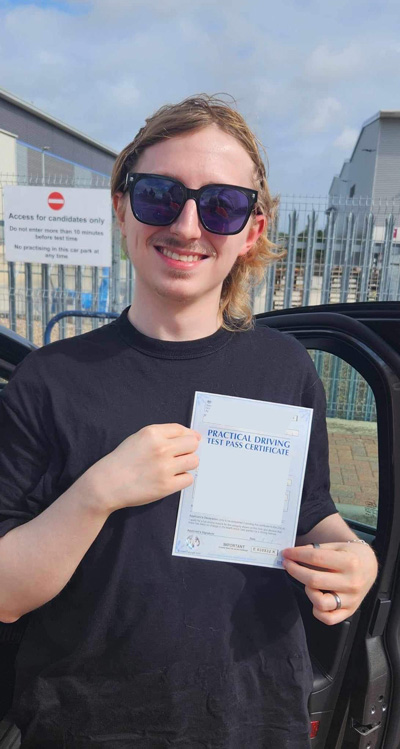 "I went into my test confident, it was thanks to the lessons and advice of my driving instructor Alan that I was able to pass"
Jon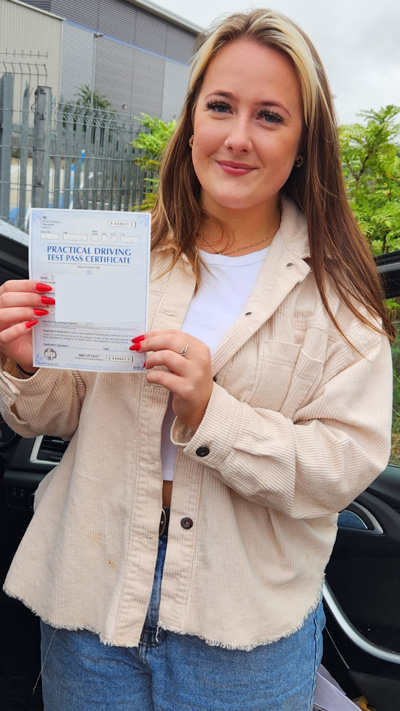 "Alan was a great instructor from the start and very patient with me since I was very nervous to start with. He is very upfront and to the point which is helpful to students when learning to help them progress. He was lovely to be around and always a laugh, he is someone you feel comfortable with when driving around and always makes an effort to make sure you feel at ease, but pushes you when necessary. He passed both me and my mum so that alone speaks volumes in itself. A real credit to his team to say the least."
Bethany Carter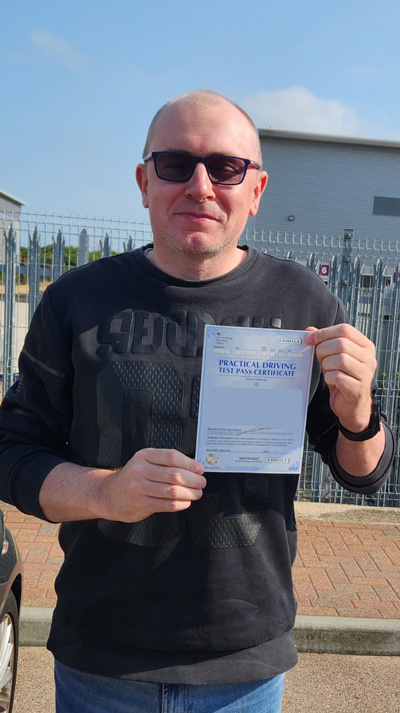 "As an autistic who suffers with various different anxiety disorders I always believed I would never be able to take a driving test, let alone pass one. I stand here now having passed first time with only one minor and it is all thanks to Alan. His style of teaching makes you feel very relaxed, I always looked forward to my lessons and that is the sign of a great instructor. I shall miss our lessons together but will be eternally grateful for what he helped me achieve. If you suffer from anxieties I would 100% recommend him to anyone, he is the best. Thank you again for everything Alan, see you on the open road. "
Rick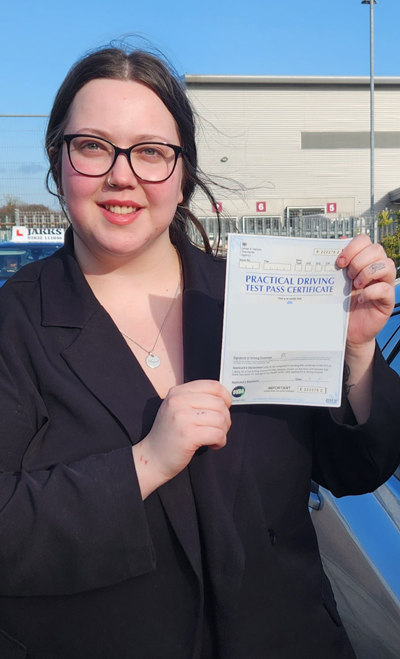 "I had a great experience working with Alan ,passed first time and couldn't recommend him enough!!"
Francesca Sedgwick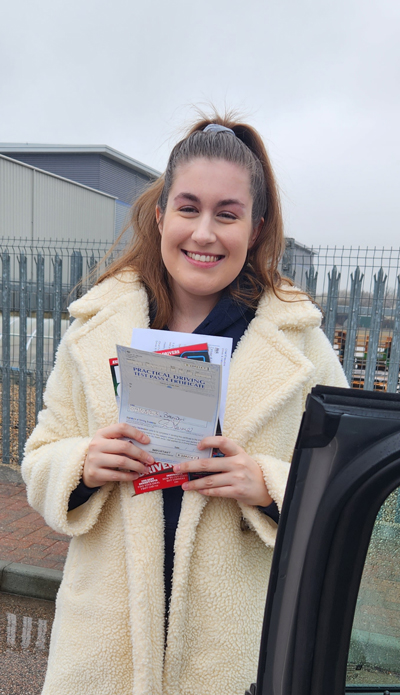 "I passed first time using Alan. He was extremely helpful and made the whole experience a lot of fun."
Rachel Francis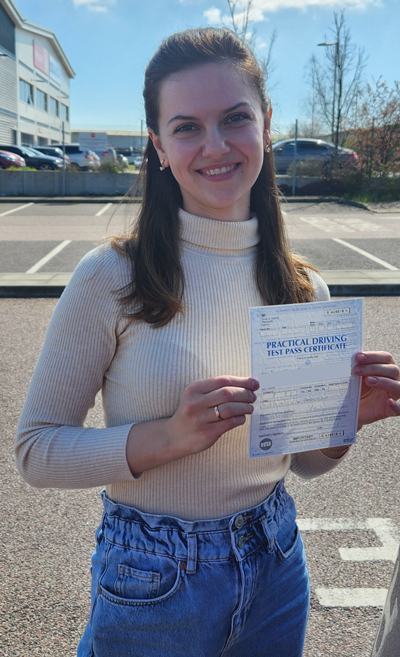 "Thank you Alan for everything, you are a very good instructor, you taught me everything from scratch and made me a good driver! I will definitely recommend you to all my friends, good ĺuck for everything and take care."
Nadejda Turcan
"Keith is an excellent driving instructor and has now not only taught me to drive to a great standard, passing my test with only 2 minors, but prior to my lessons he also taught my two younger sisters, who have been driving for a few years now. They both had tried to learn with other instructors from another company and not had the best experience, but with Keith they both enjoyed learning and gained the skills to pass their tests. Naturally when I eventually decided to learn myself, Keith was the obvious choice, and my experience was as positive as that of my siblings. I have not much else to say other than, I highly recommend Keith!"
Liam Curtis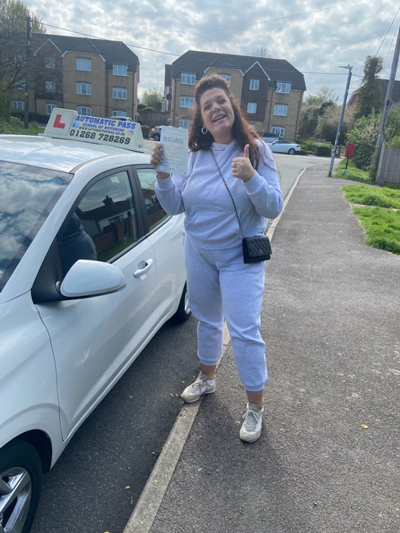 Congratulations to Geneva Passing her test with just 5 minors
Keith Whitby, Instructor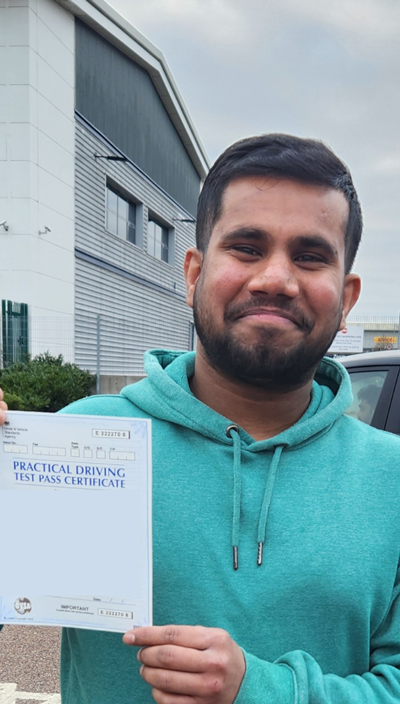 "Thank you sir for teaching me how to be a good and safe driver . All your help ,suggestions and encouragement helped me to pass my exam today. Alan it was a very ice experiencewith you . Thank you so much for your help and support."
Darvin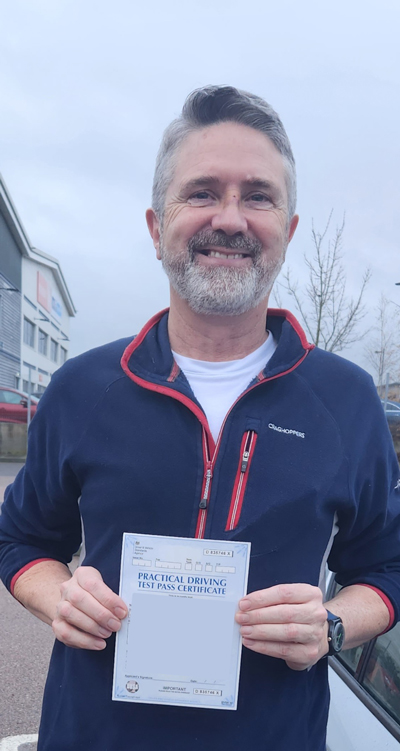 "Thank you Alan for being a great teacher. I am pleased that I passed my practical test on my first attempt. Thank you for allowing me to learn at my pace and for the good advice and support along the way. Your commitment to my regular lessons and your patience are appreciated. I have recommended you to two friends already. Thanks again"
Michael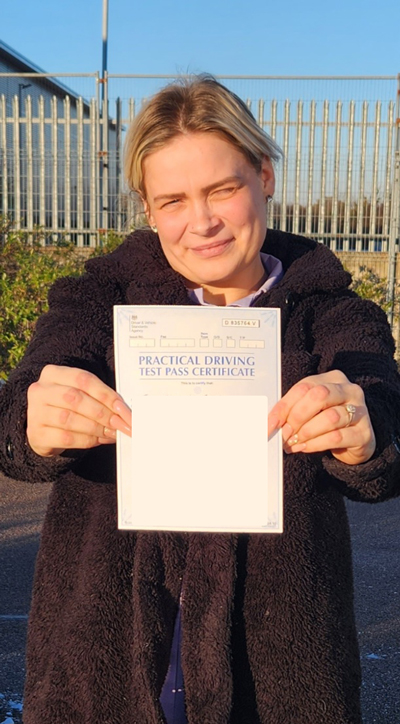 "Just passed my test first time with 4 minors . Thank you so much to Alan for boosting my confidence and for your support, you are an amazing driving instructor, thank you."
Elle Mae
"Thank you Keith for helping me pass my driving test today! He is a great instructor, always calm, reassuring and very professional. Cannnot recommend him highly enough!"
April
"I couldn't ask for a better instructor than Alan. He has been incredibly patient with me dealing with my anxiety about driving . He never once made me feel embarrassed and would let me deal with everything at my own pace , which is exactly what I needed . I'm so happy to have passed but I will miss seeing him every week . Thank you so much Alan for finally helping me have my independence."
Christine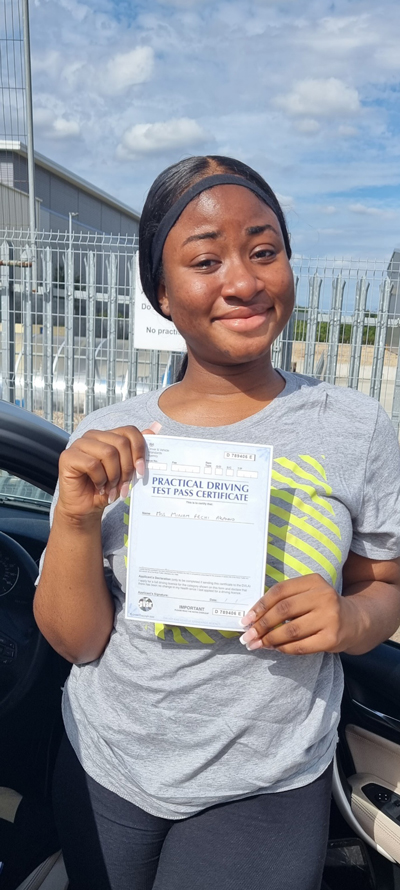 "I passed my test today and just got 1 minor , I would like to say thank you to Alanfor helping me pass my test ! . My last test really put me off but Alan motivated me and helped in every step of the way. He is a wonderful and brilliant instructor , ready to go above and beyond for his pupils. You're an excellent teacher Alan , thank you !!!"
Fechi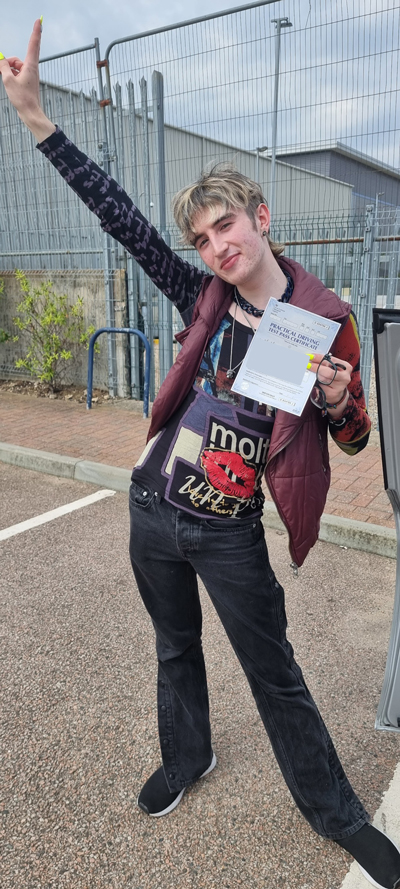 "Hi Alan ,just wanted to say a massive thank you for the support you gave me for passing my test. You can finally say goodbye to me wearing my pyjamas to our lessons lol, see you at the garage."
Matthew Andrew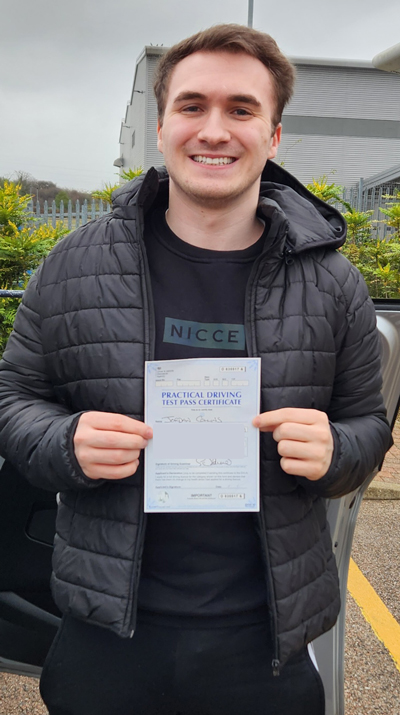 "Just passed my test first time in Basildon today with 2 minors and I am so gratefulto Alan for his help . He built up my confidence and made me comfortable every lesson. He is easy to speak to and have a laugh with and wish him all the best"
Jordan Collins
"Great driving instructor, really friendly and kind. Highly would recommend to everyone."
Ollie whelan
"Cannot recommend Keith Whitby enough. At 35 I was a bit older that the usual learner driver, had done lessons in my teens but I was never that bothered about driving...until becoming a mum of 2! I would be panicky behind the wheel, bit easily startled, but Keith gave me confidence and reassurance that I could do this. Things I would be worried about we went over and practiced...and took the fear away. I'm pleased to say I passed on my 2nd attempt in an automatic and it's changed mine and my family's life ever since, and I can't thank Keith enough!!"
Joanne Brand
"I passed my test today after starting an intensive driving course. I was anxious and nervous having previously failed 4 tests a few years back. Keith was encouraging and patient and after just one lesson I felt more confident with manoeuvres which is something I previously struggled with. Would definitely recommend Keith to others as I'm not sure I would of passed with anyone else!."
Billie Henderson
"Thank you Keith, I passed my test first time with his help and dedication. He is indeed a God sent, can't thank you enough."
Abimbola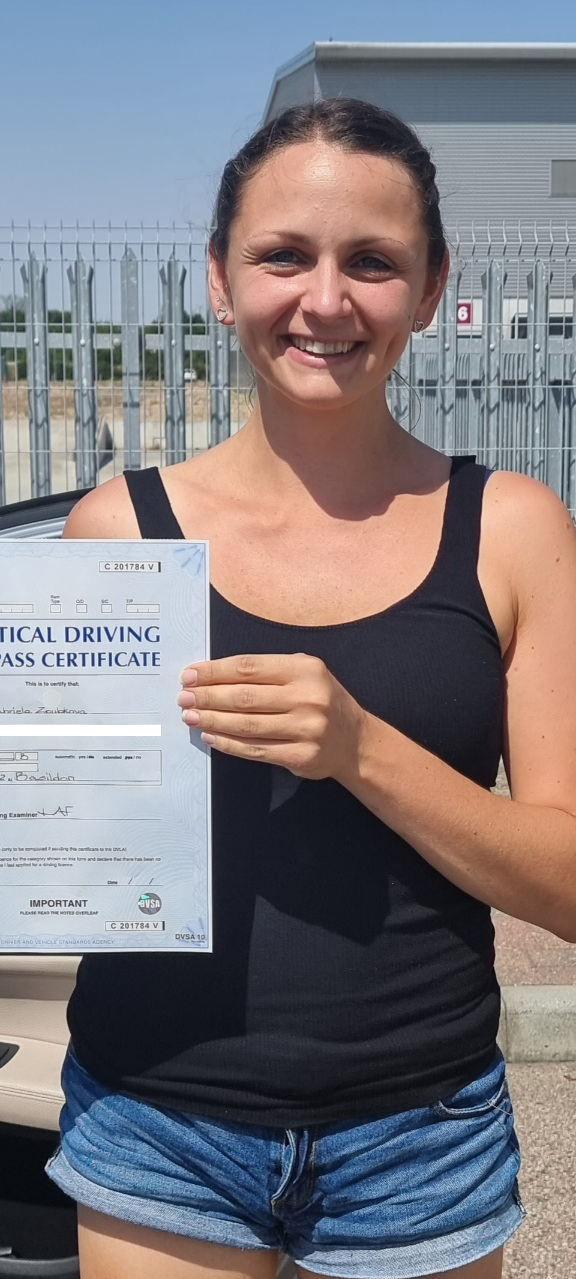 "When I first Started with Alan I had no driving experience. I was afraid of driving and wasn't sure if I would ever be able to drive. But thanks to Alan's great personality and patience, he taught me how to be a safe driver. I passed first time. Thank you Alan"
Gabriela Zoubkova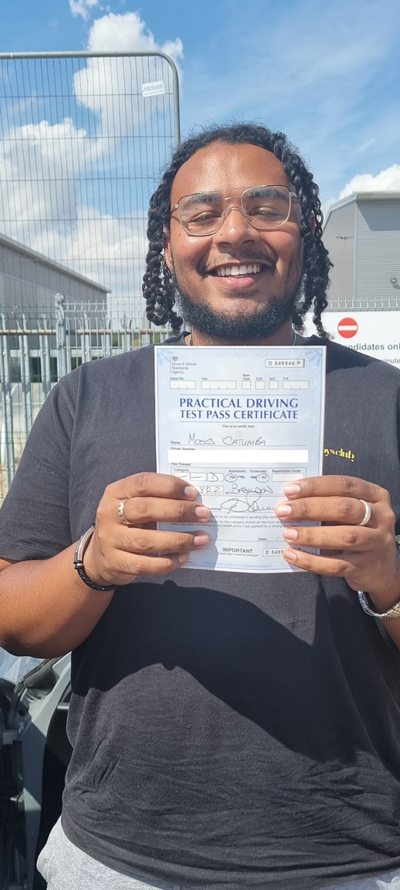 "Thank you Alan for helping me pass my test for the first time. Best teacher ever!!"
Mo Catumba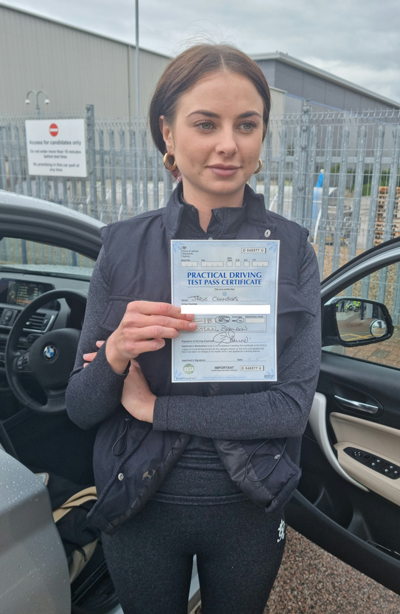 "Would just like to say thank you for helping me pass my test finally! And thank you for being so patient. Couldn't recommend you enough, I will be passing your details on as a highly recommended driving instructor if anyone asks. Thank you again."
Jade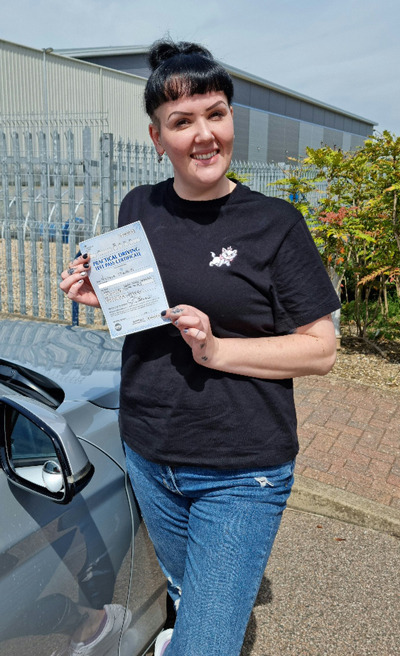 "As someone who struggles with anxiety I didn't think I'd ever be able to drive. Alan built my confidence so much so that I passed 1st time! I always looked forward to my lessons because he is calming, supportive and fun to learn with. Thank you so much, I'm going to miss our time together."
Nikki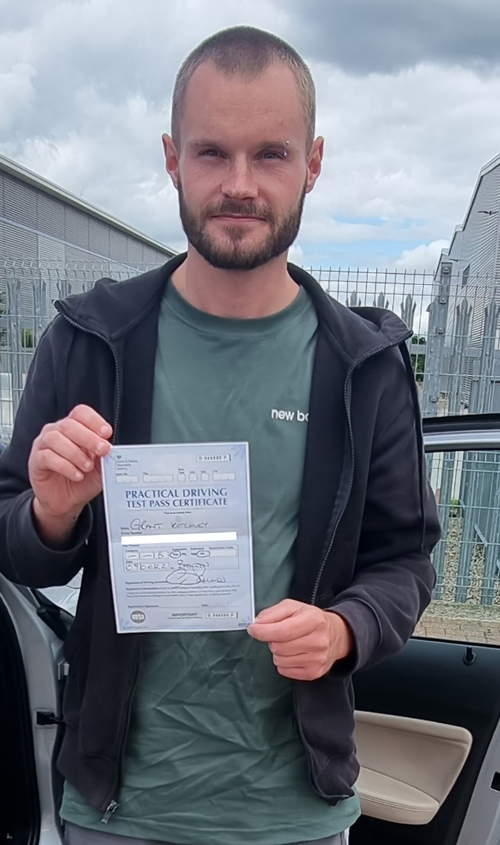 "Can't thank you enough for being my driving instructor considering my last one put me off for years, you were really calm and easy to get along with, for me to pass 1st time is all down to you and your confidence in me to get it done. I would recommend you to everyone, fantastic instructor and once again thank you, thank you, thank you for getting me through everything."
Grant
"Keith is a fantastic instructor and really puts you at ease, I passed yesterday and am over the moon!! I would throughly recommend Keith!"
Claire Masters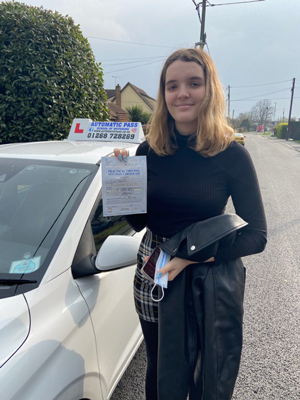 "Ella passed with only 2 minors."
Driving instructor Keith Whitby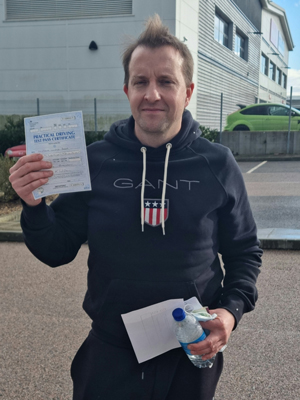 "After finally plucking up the courage to re-start my driving lessons after the pandemic I came across automatic pass whilst out with my wife. After initially making contact with the office they assigned me Alan as my instructor. He was absolutely amazing and extremely understanding with me. His method of teaching is calm, thorough and makes you feel at ease along every step of the way. I was lucky to pass first time with only 2 minors thanks to Alan's expertise and would highly recommend him. He is fantastic."
Cliff Bush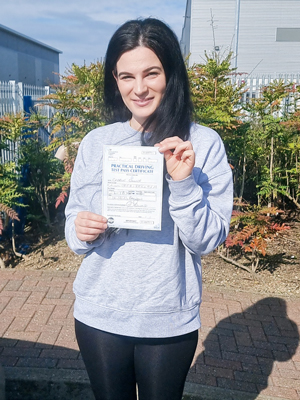 "Alan is an amazing driving instructor, he went through things in great detail and helped me pass my test. He is very calm and helps ease your nerves if you're a nervous driver. Thank you again Alan."
Charlie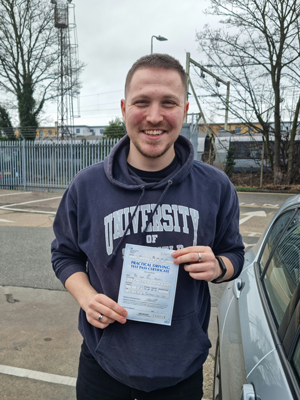 "Alan has been a fantastic instructor allowing me to pass my test first time! I wouldn't have been able to learn so quicklyand effectively without his patient guidance. He is friendly, fair and flexible to accommodate your schedule and always has time for his students. He starts with the basics and makes sure that you feel comfortable to ask any questions (even the ones that might seem stupid). I would highly recommend Alan to any first time learner."
Lee Morris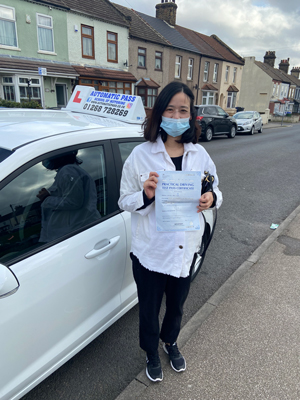 "Congratulations to Alisha passing her test today with only 4 minors. Another pass for our driving instructor Keith Whitby"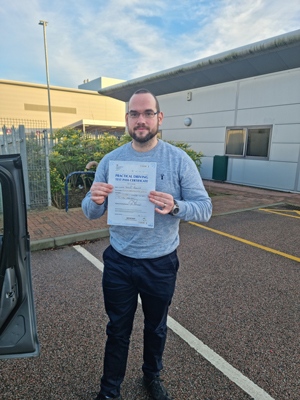 "I have been learning with Alan for a year and was pleased to pass my automatic test first time thanks to his instruction. Alan has consistently provided expert coaching and supported me through every question and mistake. I would truly recommend Alan for any learner. I would even add I don't just consider Alan to be my instructor, I consider him now to be my friend. Thank you"
Lucas Rosher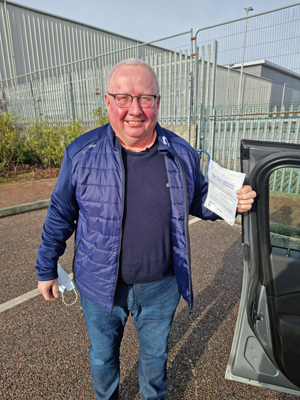 "I passed my driving test first time today thanks to the great teaching by Alan Brown. Thank you"
Barry Waite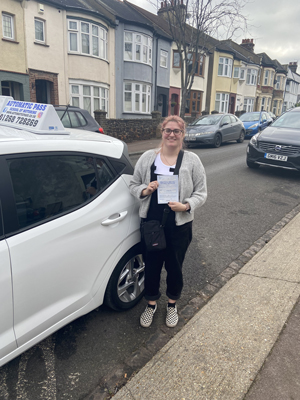 "Big thank you again to Keith on helping my pass my driving test today. This was my second test and I passed with only 4 minors! Keith is a great instructor and makes you feel really at ease driving. Would highly recommend the intensive courses."
Kerry Tindell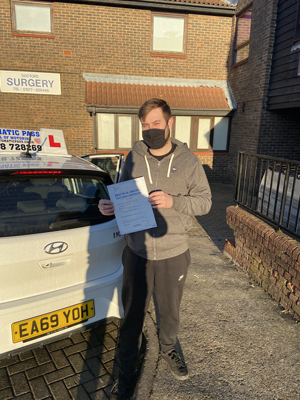 James, Pass with 3 minors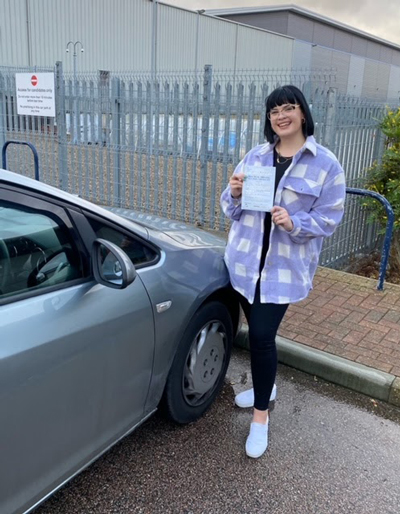 "Today I passed my test with Alan Brown and got just 3 minors , he honestly is such a brilliant instructor ! I would10/10 recommend him to anyone who wanted to drive , he really takes his time in his teaching methods and makes you feel at ease, never a dull moment, has brilliant stories and a wicked sense of humour . Extremely professional and a great instructor . I am so thankful to have had him as mine! Many thanks"
Ricki Jayne Burvill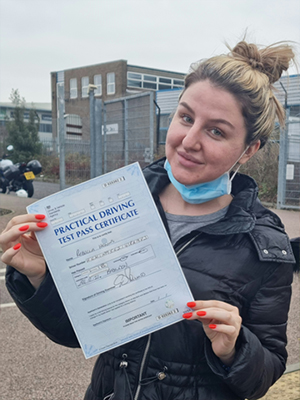 "I passed my test today with Alan Brown, and couldn't recommend him enough. He has helped me build my confidence with driving and has a lot of patience, especially as I ask about 100 questions a lesson. He is very dedicated, goes above and beyond for his pupils and really is a great teacher . Thank you Alan :)"
Rebecca Hewins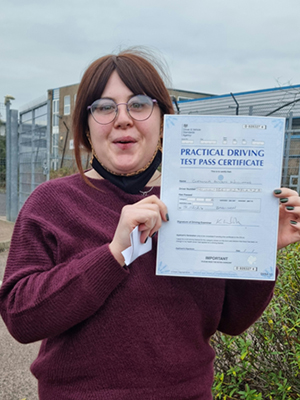 "Finally passed my driving test today with many many thanks to Alan. He is an EXCELLENT driving instructor who comes with a sense of humour and an endless supply of stories , so his lessons are great value for money! . I'll always be grateful to have had an instructor who is so proficient at his job .Many thanks Gemma"
Gemma Williams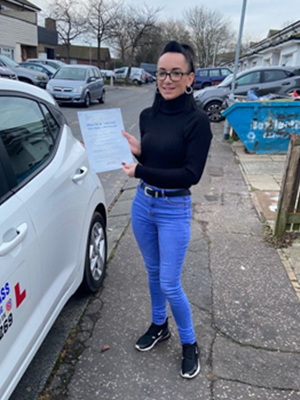 "Lisa Johnson passed only 4 minors Congratulations to her instructor Keith Whitby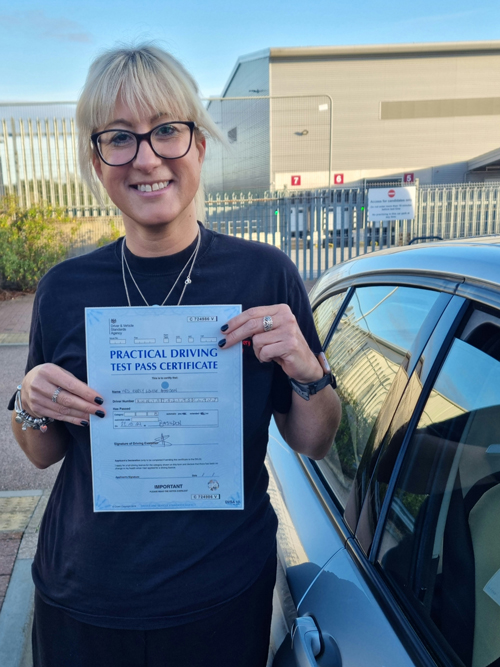 "Just want to say a huge thank you to my instructor Alan Brown. With his help I passed my test today first time, he has had to have a lot of patience and probably never wants to hear the word sorry again!!! I couldn't have asked for a better instructor, absolutely fantastic, thank you."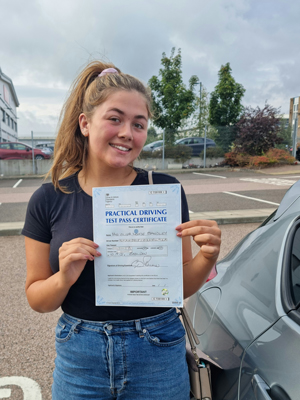 "Passed First time Whoop Whoop! Thank you Alan for getting me where I need to be! Great Instructor"
Olivia Standley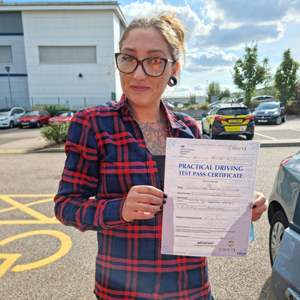 "I passed my driving test first time today thanks to Alan, thank you for putting up with my nerves and all the tears."
Charlotte Payne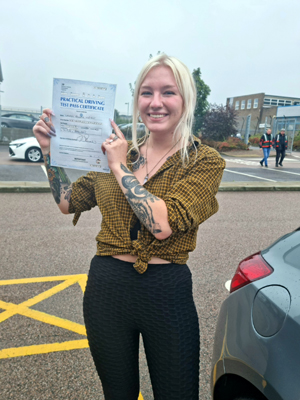 "Despite having lessons stopped by COVID, Alan helped me so much with driving, especially after the long break of no lessons. Lessons were always informative,fun and very well organised, I never struggled to get time in with Alan as we would book ahead and he is very flexible with his hours. I passed first time and I'm over the moon. thanks to Alan"
Lauren Wright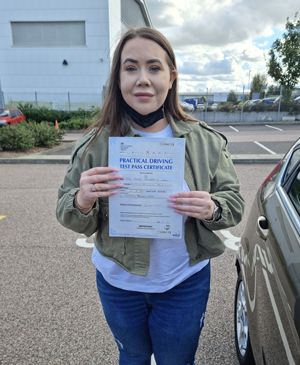 "I cannot recommend Alan enough. I passed 1st time with no minors .he has a way of keeping you calm and confident no matter where you go wrong. He goes above and beyond for his pupils. I had a fantastic experience of learning to drive with him. I honestly can't thank him enough."
Hayley Wood
"I am so delighted to have passed my driving test first time with only 3 minors and I can confidently say that this was thanks to Alan Brown. I was very nervous during my first few lessons but Alan helped me feel in control and safe . He is professional, very calm ,patient and easy to get on with ( very important when spending so many hours in a car together). Alan is an excellent teacher, I really benefitted from the exercises and demonstrations used to reinforce a concept I was struggling with. He was always up to date with my progress and knew exactly what I needed to do next to move forward . Thank you Alan"
Roxhensa
"Passed first time on my driving test today, Keith made me feel so comfortable on every lesson and I would highly recommend for anyone who wants to learn! Thank you Keith!!!!"
Catherine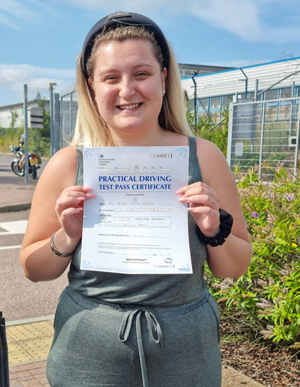 "I passed my test today, I couldn't have done it without Alan , he is very professional and a good teacher"
Abby
"First time pass with Keith as my instructor, he was understanding, calm"
Bethan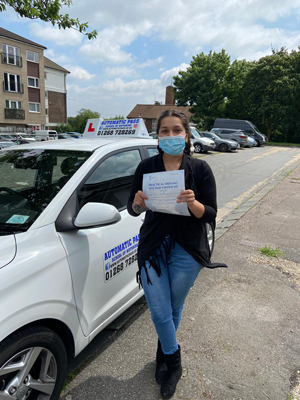 "Absolutely great service from phone calls to driving lessons! Keith was my instructor and he was always very patient and encouraging. Would definitely recommend!"
Merissa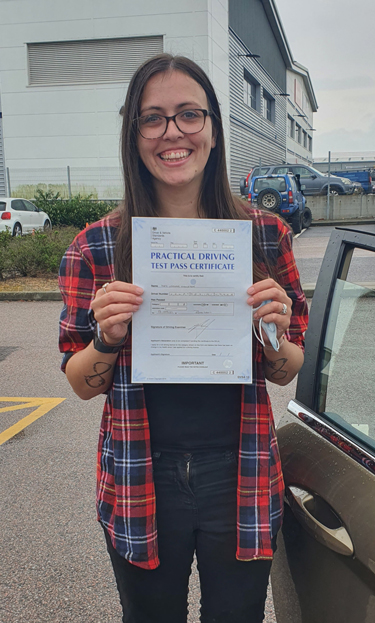 "I passed my driving test first time with only two minors thanks to my amazing instructor Alan. He is a great instructor, putting me at ease and being a great support in my driving experience. I could not have passed without Alan's knowledge and guidance. I recommend the company but even more so, I highly recommend Alan!"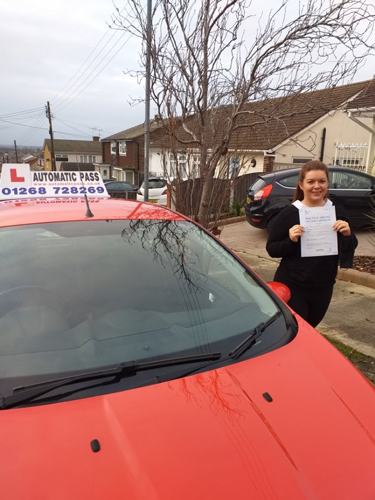 "Words cannot describe the feeling when you pass your driving test, i passed first time with only 3 minors, i couldnt of done this without my fantastic instructor Carol. i can remember how nervous i was when i first started but carol put me at ease & she believed in me when i didnt believe in myself sometimes this gained me great confidence in the right way. i will really miss carol & our funny car chats & would advise anyone who is looking to start driving to choose carol as she is fantastic at her job & as a person! thank you so much carol :)"
Kimberley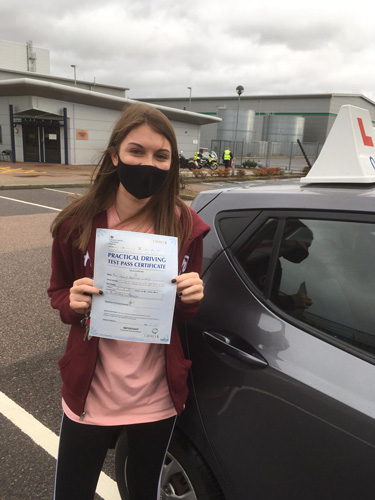 "Passed with only one minor thanks to Keith. He gave me confidence in my driving and allowed me to make the right decisions for myself. I would highly recommend Keith as a driving instructor- I passed first time with him after changing instructors and would've failed again if it wasn't for him :)."
Holly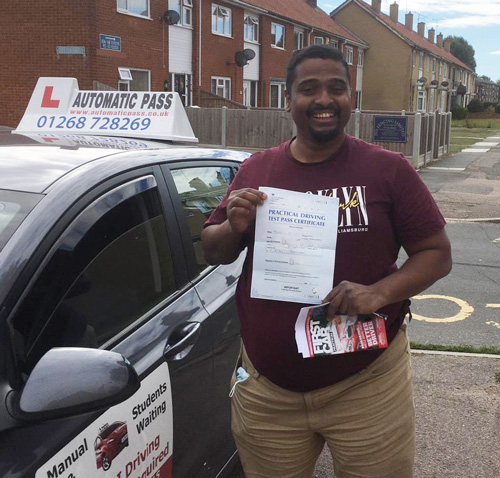 "I passed my test in the second attempt. What I loved the most in the training was how Keith was able to understand me as a person and use the right tactics to get the best results out of me. I am basically a person who panics a lot and becomes nervous easily and tends to become forgetful when nervous. Keith was always nice, gentle and calm with me and continuously boosted my confidence through praise and appreciation. At the same time he always pointed out my errors and gently corrected me which proved a great help to me. Love you Keith for taking caring of me and training me to a level required for me to clear my test smoothly. I would definitely recommend Keith to anyone who is a bundle of nerves and lacks confidence in passing. He is the one to train with. Results will definitely follow."
Sony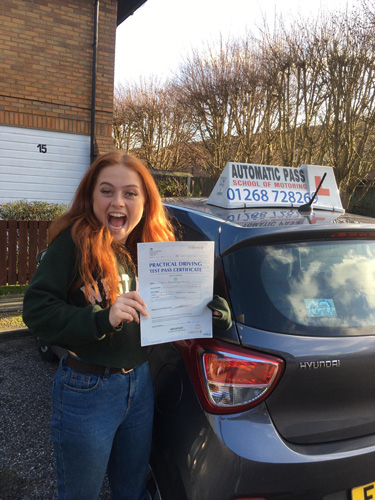 "After 6 years and 2 previous driving instructors, I saw Keith at Canvey roundabout while I was in the car with my mum. He let my mum out as she said thanks. Mum said he looks nice, maybe see if he can teach you. I scribbled down the number and called automatic pass. About 10/12 hours of lessons after, I passed my test first time today. I couldn't recommend Keith more if I tried. He's calm, and patient and hilarious' I honestly couldn't have done it without him. Fabulous driving instructor whos driving lessons I'm gonna miss a lot!!
Thank you so so much you're the best"
Megan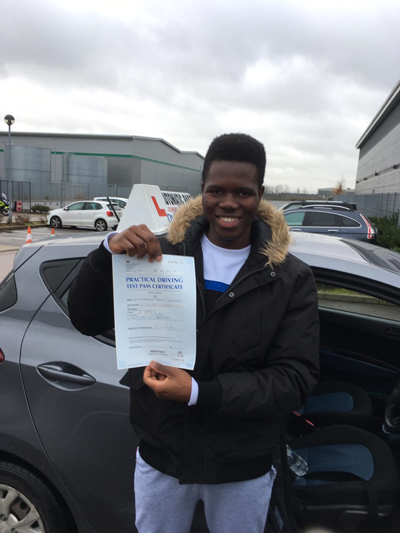 "A huge thanks to Keith who helped me pass my test today! First attempt! He always made me feel calm and relaxed; being one that easily gets nervous, pointing out my errors in a nice way! Keith you are an awesome instructor and if you are reading this and looking for an instructor, I strongly recommend Keith! Thank you Automatic Pass!"
Joshua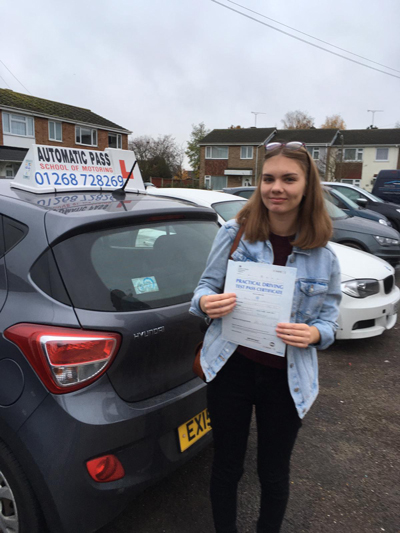 "I passed my driving test today, after doing an intensive automatic driving course with Keith over the last couple of months. I would just like to say a big thank you to him for being such a good Instructor. He is very patient and always made me feel at ease, and I would not have passed if it were not for him. I would highly recommend Keith as a driving Instructor."
Emily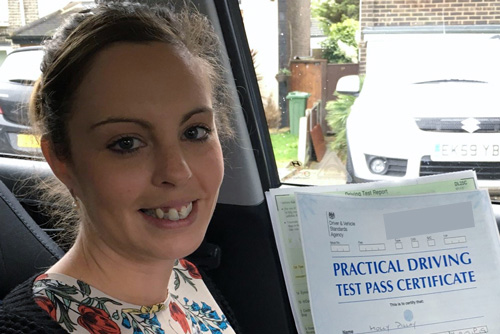 "Fantastic driving school. Extremely helpful when I called up asking for advice on an intensive course. As I had to wait 6 weeks for a test my lessons were split over this time. Keith was a great instructor and I have just passed my test today.. first time!"
Holly Pillay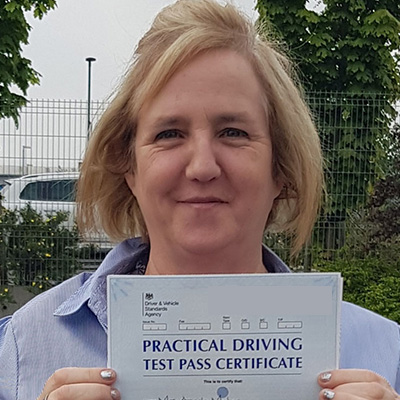 "Just passed my driving test,thanks to my driving instructor Alan. Can't praise him enough for being patient and putting me at ease while giving me the confidence to become a safe and good driver, once again thank you Alan"
Angela Mahur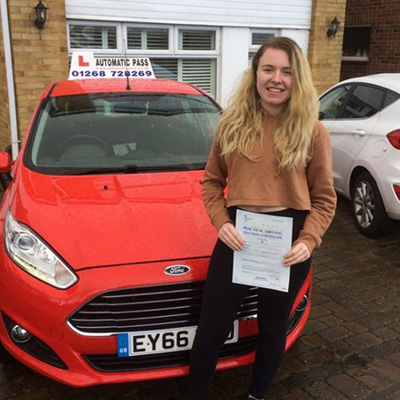 "I really enjoyed my lessons with Carol and I'm excited to have passed with no driving faults. She's an amazing instructor and helped me feel comfortable and confident with my driving."
Carla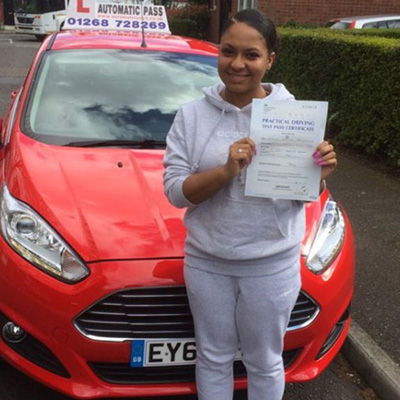 "Hi Carol, thanks again for all your help and guidance throughout all my driving lessons. I now have the freedom and independence I have longed for after years of on/off lessons. There were times I wanted to give up as I never thought I could do it but your patience and reassurance that I CAN do it really pulled me through. I'll continue to use all the skills you've taught me and all the advice given! Thanks so much!"
Nicole
"I was such a anxious and nervous learner but my instructor had so much confidence in me which in turn improved my confidence. His patience & understanding really helped. I honestly believe that without him and his encouragement I probably would have failed my practical. I'm so grateful to Keith thank you so much. I would recommend everyone I know to Karen's School of Motoring, and specially recommend Keith. He really is the best. He has the patience of a saint."
Nyanda
"I would like to thank Alan from Automatic Pass for helping me pass my driving test first time on an intensive course, thank you very much."
Karen Selwood
"I PASSED my test today first time, big thanks to Mr Rahman he is a very good instructor."
Biju Varghese
"Mr Rahman made me pass 1st time after just 5 weeks. When i started i didnt even know how to start the engine. Im a very nervous driver and he has taken te time to calm me down, build my confidence and make me believe i can do this. Very friendly and kind man. Thank you so much Mr Rahman. I highly recommend karensschoolofmotoring especially Mr Rahman as he has changed everything for me."
Blerina
"I passed my test today for the first time with Mr Rahman. I used a lot of other instructors but didn't feel ready until I had Mr Rahman who got me ready and calmed my nerves. I was always very nervous and when I told him about my nerves he reassured me that he will help me over come my nerves. Mr Rahman is very patient and will talk you through what you are nervous about like he did with me. He is always very happy and cheerful and calm. I highly recommend him as an instructor and he is a very good person and I will recommend anyone to karen school of motoring."
Samantha Day
"After trying 3 or 4 different driving schools I finally found a instructor that i enjoyed doing lessons with. Wayne was calm didn't make you feel like you was under pressure and always gave feedback on where you went wrong and best way to resolve this I only had 10 hours with wayne as I had already had 20 or so hours prior but in the 10 hours I done with wayne I had already learnt more than what I did on previous lessons. I would 100% recommend wayne i passed my test first time with only 1 minor. 10/10 big thank you to wayne for all your help."
Ashley Murray
"I passed my test today and very very big thanks to Mr. Rahman to passed my test I had used a couple instructors before and it's totally different way Mr. Rhaman taught me and I feel very safe and very comfortable on the road and before that I was not comfortable before he teach me. And I really big thanks to Mr. Rhaman again and I am overwhelmed. I would highly recommend Mr. Rhaman as a great instructor. Thank you automatic pass for giving a great instructor to me."
Rocille Sanchez
"Massive thank you to Keith for helping me to pass first time! He is very patient and helped me to learn in a safe way, would highly recommend to anyone!"
Rebecca Newby
"What to say !!! Rahman is the man who made me pass finally... I have tried four instructors earlier and none of them made me pass... Rahman believed in me and gave enough confidence made me a relax driver with his approachable behaviour..He is very friendly and paitence when it's come to lessons and never ever shout out for my repeated silly mistakes on road..I will highly recommend to any one who wants to get their DVLA licence. Thank you Rahman for your training..I will follow what you taught through out the my driving journey..5 star rating always for Rahman."
RAVISHANKAR MAHENDRAN
" I passed my test today first time with only one minor fault. i have taken lessons with Rahman from start to finish. Good and clear teaching which helped me gain confidence on the road. Nice and calm instructor, big thanks, I am happy with my experience and recommend him as an instructor. Thank you"
Bami
"Massive thank you to ALAN BROWN . Never though i would ever pass my driving test being disabled . I could never have asked for a better instructor and i looked forward to our time together on lessons every week ,he made everything so simple and easy to understand and had belief in me even though sometimes i doubted myself . It was a challange for alan as well as myself being blind in one eye but we did it :-) Massive respect and i will always be grateful to alan. Thank you for everything."
David
---
Instructors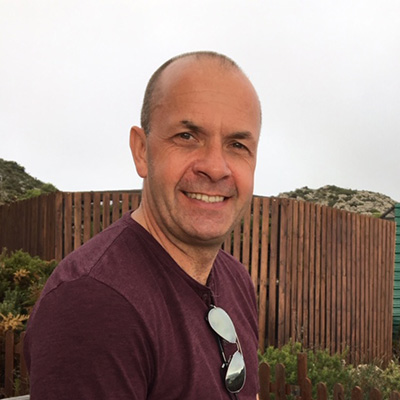 Keith Whitby
Rayleigh, Benfleet and Canvey Island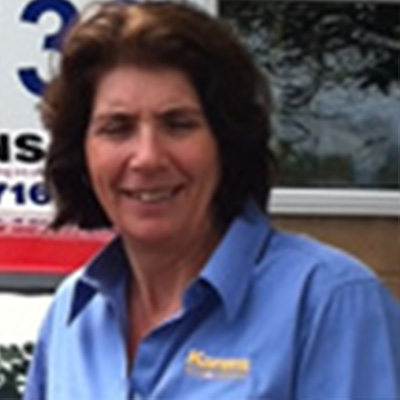 Carol Bennett
Benfleet, Basildon, Surrounding Areas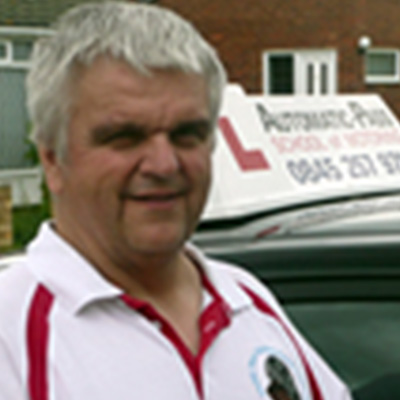 Alan Brown
Basildon, Laindon, Canvey, South Benfleet, Wickford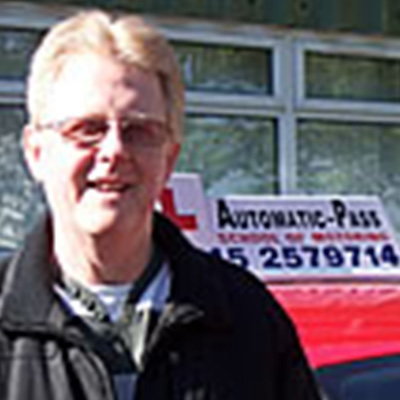 Ron Emery ADI
Corringham, Chadwell, Tilbury, Grays, Chafford Hundred, Stifford Clays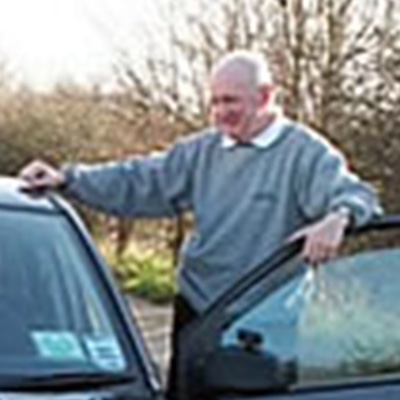 Peter Phillips
Hornchurch, Romford, Upminster, Rainham, Dagenham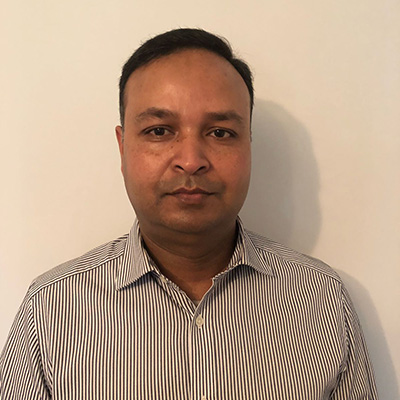 Mohbubur Rahman
Chadwell, Grays, Orsett, Tilbury, Surrounding Areas
Instructor Training